01 Jul

PSV New Rules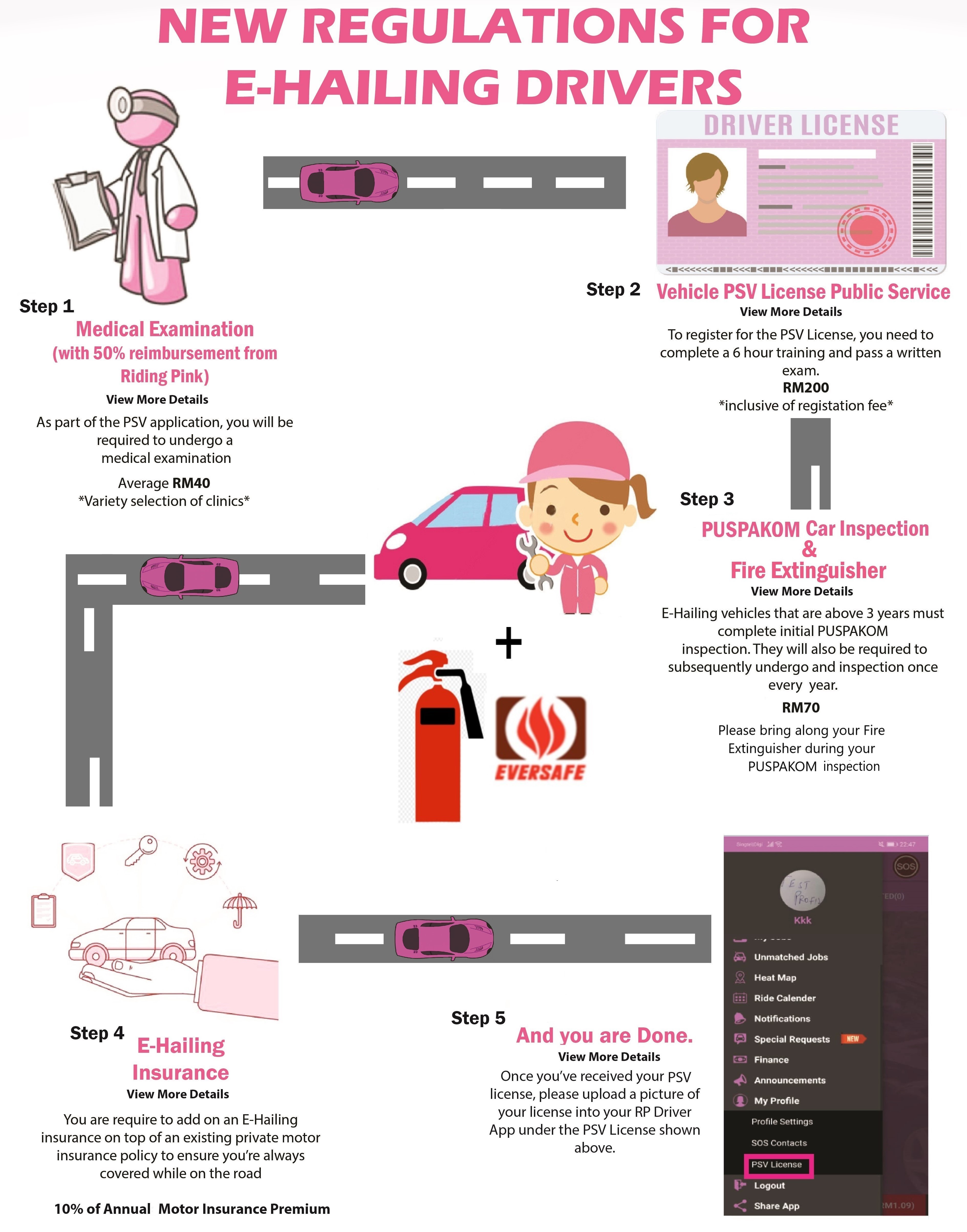 Step 1
PSV MEDICAL CHECK UP
Step 1 – do a full medical check up at any clinic at your convenience.
Download the pdf file and print the MEDICAL EXAMINATION FORM JPJL8A to be filled and given to the clinic. ( http://www.jpj.gov.my/web/main-site/pelesenan-pemandu/-/knowledge_base/perlesenan-pemandu/borang-permohonan-lesen-vokasional-jpj-l8a )
Health screening check up can be done at any clinics with the average of RM40. Save the receipt for the claim process to be done later. (RP will reimburse 50%) *fill in T&C for reimbursement*
Step 2
PSV 6 Hour Training & Examination
Step 2 – Attend the PSV Training (JPJL2C) classes for 6 hours. Contact any driving school that provides classes for the licenses for PSV E-Hailing (do not swap with taxi, van or bus psv).
After attending the 6-hour PSV Training classes, you are required to sit for the PSV Test (JPJL12). Your PSV Test Date will be arranged after the PSV Exercises. You will be given the PSV License upon passing the exam.
The cost of the course / exams is approximately RM200 inclusive of registration fee.
Please visit this site for more info: https://www.surfinehitech.com.my/
Step 3
PUSPAKOM EXAMINATION
Step 3 – car that has exceeded 3 years need to be taken to Puspakom to conduct the Puspakom inspection. A special sticker will also be issued by the e-hailing operator to indicate that it is an E-hailing Vehicles.
Make sure you have your car serviced first and most importantly, make sure all the lights are lit, tinted (not too dark) and ensure the brakes are fine. Include hazard lights, fire extinguisher and first aid kit (for seven seaters) into the boot of your car.
Remember to make an appointment before going for the inspection.
You may contact the nearest PUSPAKOM centre to make an appointment or you could walk in. You can also make an appointment through the myPuspakom app. You May download the app at https://play.google.com/store/apps/details?id=com.ERPS.myPuspakom&hl=en
Here are the lists of centres you can make your puspakom appointment at.
Wangsa Maju – Jalan Genting Kelang, 53300 Setapak
Taman Bukit Maluri – Lot 37664, Jalan 4/37A, Taman Bukit Maluri Industrial Park, 52100 Kepong
Cheras – 1 & 3, Jalan 1/118C, Desa Tun Razak Industrial Park, 56000 Cheras
Shah Alam – 2, Jalan Jijan 28/35, Seksyen 28, 40400 Shah Alam
PandanMewah – 43 Jalan Mewah 3/3, Taman PandanMewah, 68000 Ampang
Batu Caves – Lot 28826, No. 28 & 28A Jalan SBC 9, Taman Sri Batu Caves, 68100 Batu Caves
Bangi – 17 Jalan P10/18, Taman IndustriSelaman, Sek. 10, 43560 Bandar BaruBangi
Glenmarie – 19 Jalan Pengetua U1/32, HICOM Glenmarie Industrial Park, 40150 Shah Alam
Banting – Lot 8507, Batu 18, Kg. Sg. Manggis, Jalan Klang Banting, 42700 Banting
Petaling Jaya – Lot 1, Jalan 225/51A PJCT Industrial Zone, Section 51, 46100 Petaling Jaya
Padang Jawa – Lot 1 Jalan Padang JawaSeksyen 16, 40200 Shah Alam
Sungai Besar – 2, Jalan TP-1, Taman Perdana off Jalan Stadium, 45300 Sungai Besar
Fire Extinguisher
In collaboration with Eversafe,  Eversafe will be offering ALL Riding Pink drivers* an amazing promotional rate for every fire extinguisher purchased, to assist our Pink Sisters to comply with the new regulations.
| Description | Per Unit |
| --- | --- |
| Walk in price | RM 65 |
| Online price | RM 74 |
| Riding Pink Drivers | RM 48 ( self-collection only) |
*All you need to do is to provide Eversafe a screenshot of your driver's account.
Visit  www.eversafe.netto learn more and purchase your own fire extinguisher.
Step 4
E-Hailing Insurance
Step 4 – Riding Pink is offering special rates on Alliance and AXA insurance.
Through renewing your policy and adding on the e-hailing top up through Riding Pink & Policy Street, you will be entitled to the following discounts:
Alliance: 5% of total premium (gross annual premium + 10% e-hailing top up)
AXA: 10% of total premium (gross annual premium + 10% e-hailing top up)
E-hailing top is 10% of your gross premium. For instance, if your gross premium is RM1000 per year and you were to add in an e-hailing coverage top up, you would now pay RM1100 per year. Note, this does not include the discount we've made available to you.
Discounts are applicable whenever you renew through our platform.
Simply click on this link to renew or sign up for AXA:
https://axa.idevaffiliate.com/idevaffiliate.php?id=105&url=3&tid1=ridingpink
To renew or sign up with Alliance, reply to  reg.info@ridingpink.com with the following information:
Vehicle reg no
Car make and year
Full name (as per IC)
NRIC
Contact No
Email address
Get to know more about the e-hailing coverage here at: